What's New
This release of Signals Notebook brings some integration improvements, some capabilities to reset materials libraries and improvements to Inventory capabilities. We have also fixed a number of small bugs.
The following are available for users of Signals Notebook Individual Edition, Signals Notebook Standard or Signals Notebook Private Cloud
Usability Improvements

– Additional units for pressure
– Additional solvents
– External hyperlinks are clickable links in the exported PDF
The following improvements are only available for users of Signals Notebook Standard and Signals Notebook Private Cloud
Usability Improvements

– Attribute values aren't copied if the user does not have an association to that value

Integrations

– External data/chemical sources identify the user making the call
– Notifier API for entity creation events
– Custom action to intercept reviewing events
– Delete entity endpoint

Parallel Experiments

– Non reacting fragments are stripped from products during enumeration

Materials Improvements

– All records from a library can be removed and the counter returned to start
– All fields for an OOTB library can be reverted to their original state
– Fields that have never been used can be deleted
– Custom libraries can be deleted entirely

Inventory Improvements

– Create multiple containers at once
– Updates to Amount

• New Update Amount button
• Ability to choose count in dropdown

– Updates to Search in Signals Notebook
We also fixed several small bugs in this release. Details of the enhancements are described below.
This content is anticipated for release for Production E3 customers in November 2021.
Further Details
Usability Improvements
We have added additional units to the set of Pressure units available within Reaction Conditions, specifically mbar, Torr and psi.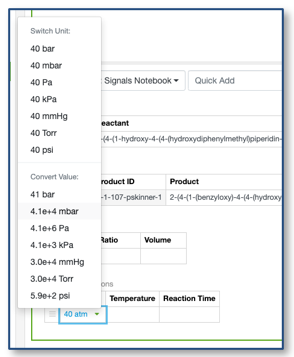 We have also added to the list of available solvents.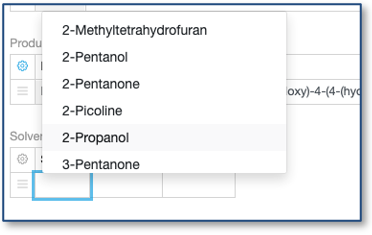 External hyperlinks included within content, either via experiment properties or as properties in Samples or Tables, are now included in the exported PDF as clickable hyperlinks rather than plain text.
The following improvements are only available to users and administrators of Signals Notebook Standard and Private Cloud and are unavailable as part of Signals Notebook Individual Edition.
Usability Improvements
Attribute values are now only copied when an experiment is copied if the user has an association to that value. When they do not have an association the attribute value is remove and the user will need to set a new value.
Integrations
External Data Sources and External Chemical Sources can now be configured to pass over the username and/or user alias for the user initiating the API call through a connected Admin Defined Table or the QuickAdd toolbar in ChemDraw Reactions.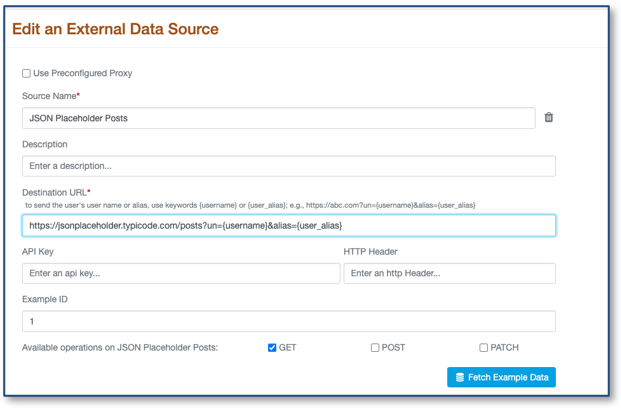 The Notifier API has been extended to provide notifications when certain entities are created. Notifications can be posted to an external URL and/or available in a log via our public API. Notifications can now be generated for the creation of Notebooks, Experiments, Requests, Parallel Experiments, Samples, Tasks, Admin Defined Objects and Materials.

The External Actions capability has also been extended to allow organizations to intercept reviewing events for analysis in an external application. This extends existing capability which allowed interception of other signing events such as Close, Sign and Assign Witnesses and Sign and Close. This extends this capability to all signing events including Accept, Reject and Reopen.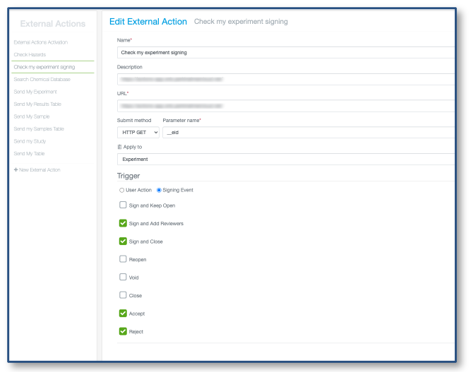 We have also added a Delete Entity API endpoint.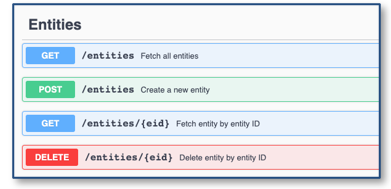 Parallel Experiments
Grouped non reacting fragments are now stripped from the enumerated reactions in Parallel Experiments. If a given reactant for one of the variable components has a grouped fragment, such as a salt or a solvate, that is not matched as part of the generic reaction, it is removed from the products upon enumeration.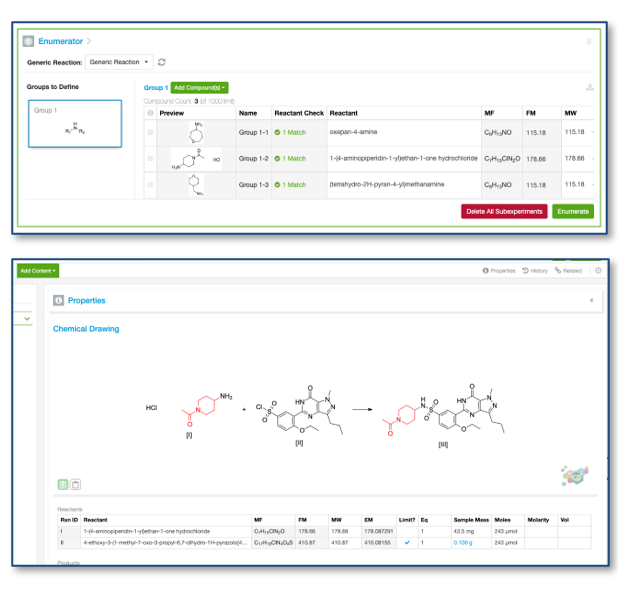 Materials Improvements
Materials Libraries can now be reset or completely deleted. If a library is provided as part of our default configuration, the administrator can choose to either delete all records, reverting the counter back to the start, or to also revert all configuration of custom fields back to initial configuration also. If the library is a custom library added by the administrator, the admin can either remove all of the records or delete the library entirely.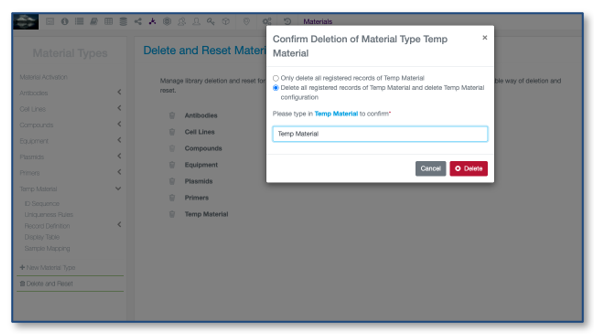 Additional, unused fields can be deleted from the field definition of libraries. Once they have been used however they cannot be deleted and can just be hidden.
Inventory
Create multiple containers at once from the Materials Library:
When choosing the Add Container from the Materials Library, the Add Container dialog will launch.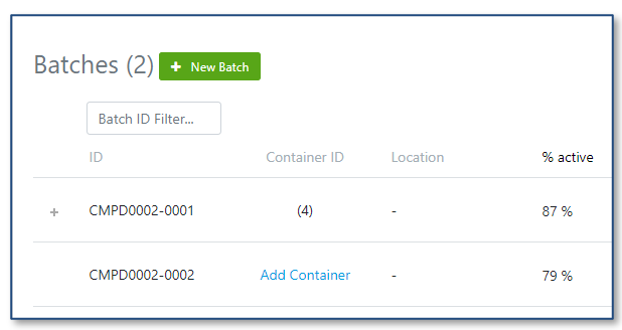 At the top, enter the number of containers you would like to make. The Material, the amount, the container type and security (Project in the example) will all be the same.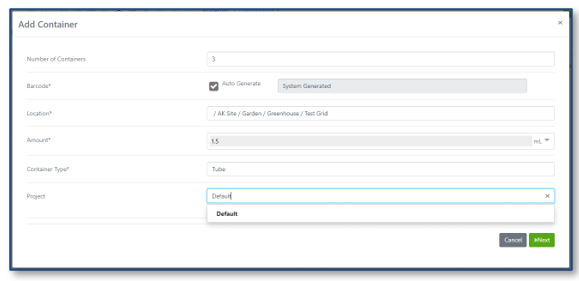 If you are using your own barcodes, you can make the adjustments before you finish the container creation workflow:

If the containers belong in a box/rack/location with a grid, you will need to choose where to place each of the containers: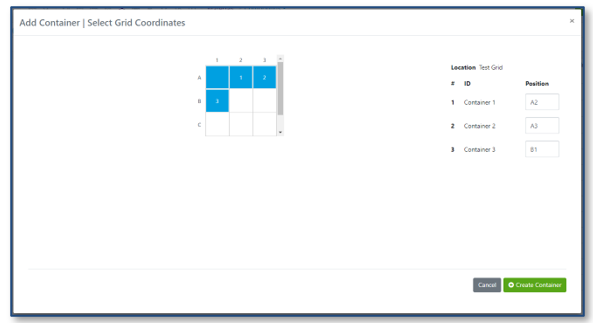 Updates to Amount:
New Update Amount Button:
In the SNConfig Administrator console in Containers tab there is an added role option for Update Amount:

On the containers, when a user has permission they will see the Update Amount button:

When clicked a dialog will launch where users can update the amount in the container: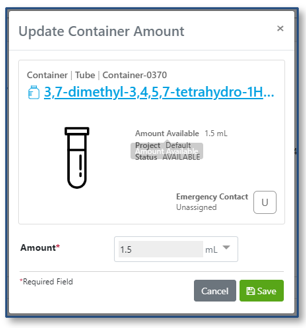 Ability to choose count in dropdown:
Under the Amount dropdown menu, count has been added for the situations where materials or substances are sold in individualized single use containers where each individual sub-container does not need a barcode.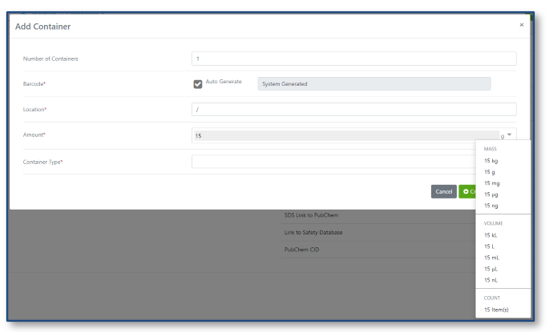 Updates to Search in Signals Notebook:
From inside of Signals Notebook, there is an Inventory dropdown in the Search area:

When you select Inventory, you will get the Inventory relevant search filters: